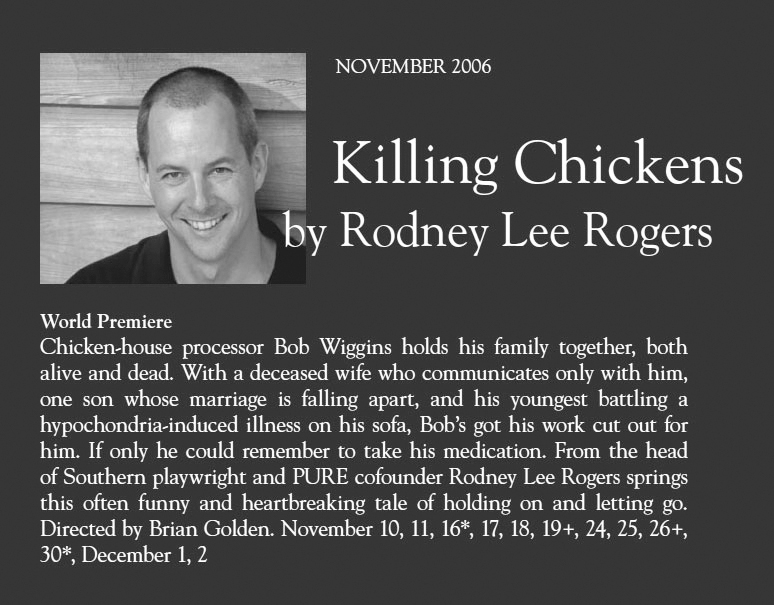 FAMILY AFFAIR: PURE premieres a lively new play that succeeds on multiple levels
by Nick Smith
Charleston City Paper

It's rare to see a PURE show where the characters aren't completely screwed up. They're all poster people for the proposed benefits of therapy, wading waist-deep in anguish or trying to get over a traumatic event. In these fascinating productions, contented relationships are as rare as big musical numbers and the set designers take pride in their humdrum arenas.
Killing Chickens, written by PURE cofounder Rodney Lee Rogers, is based in a world where Food Lion, Chick-fil-A, and late-night TV coexist with guns, cancer, and chemo. In this environment ("a small town in South Carolina"), there shouldn't be much room for fantasy, but there is — along with compelling drama, subtle character development, and plenty of humor.
Rogers gives himself the funniest lines as Cliff. Without hogging the limelight, he swaggers around, flipping his cellphone like a gunslinger from High Noon. Scenes from the Gary Cooper classic are projected onto the set before Chickens, and there are various nods to Hollywood conventions throughout the show.
Cliff needs therapy. The death of his mom has hit him hard. His dad, Poppa Bob, seems to be one drumstick short of a bucket. As Cliff struggles to wrest power from Poppa while maintaining his façade as the devil-may-care member of his family, the strain is beginning to show. Rogers effortlessly brings all of these elements to the fore, making the audience laugh, and care about what's happening, more than any other actor on the stage.
Cliff's wife, Heather (Rogers' real-world wife and the other half of PURE, Sharon Graci), is also in need of some lengthy bouts of counseling. She's separated from her husband, has a kid to raise and a mortgage to cover. Like Cliff, she's stuck in her gender-oriented role: She's the practical one, the caring peacemaker and talker. Rogers is a smart enough writer to acknowledge this while including some authentic dips into her psyche; unhappily, she blames herself for Cliff's shortcomings.
The action livens up when Cliff and Heather's young daughter Ashley is on stage. In an energetic yet dialogue-heavy scene, Sullivan Graci-Hamilton delights the audience and overcomes the ambiguities of her character. Like her mother Sharon Graci, Sullivan is able to focus a lot of energy into a small amount of stage time, and she's all the more memorable for it.
Poppa Bob has the most prominent part in Chickens, and he's way beyond therapy — in fact, he's prime stock for the funny farm. Most of the time, though, he comes across as a guy past his prime, missing his lost loved ones, going through the motions at his poultry processing job. In the tough role of Bob, Randy Neale gives a performance that's almost painful in its intimacy. Thanks to some peculiar blocking by Chicago-based director Brian Golden, some of Neale's choicest moments are unseen or barely heard when he turns his back on the audience or delivers lines upstage, giving a sense that we're merely flies on the wall bugging a family conference. While such acting's more appropriate for movie close-ups, Neale still creates several satisfying instants throughout the play and reacts to plot developments in a realistic fashion.
Some of Neale's best scenes are with Ryan Ahlert, who plays Cliff's hypochondriac brother Phil. Like their dad, Phil doesn't hold much with talking about his feelings, although, ironically, he spends a lot of time on the couch. Ahlert takes a while to flesh out his strange relationship with his family; early on, his performance seems uneven, switching from loneliness to boredom to fuck-you grins without giving the audience a chance to get to know him first.
With plenty to say about loneliness, bereavement, the societal roles people play, and the pressures that result, Rogers has created a worthwhile piece of theatre that embraces its dramatic clichés rather than ignoring them, holding its own against past PURE offerings by Neil LaBute, Martin McDonagh and others. Rogers' characters may need psychiatric help, but that makes their hard lives and poor choices compulsive to follow — the hallmark of any great drama.
---
PURE PREMIERE
Chicago diector on board for Rodney Lee Rogers' original play
by Dottie Ashley
The Post & Courier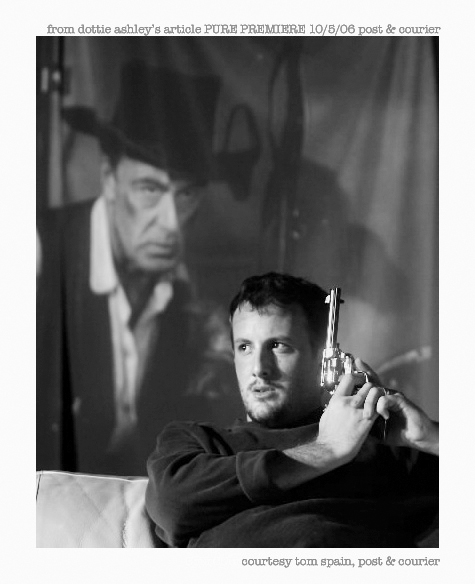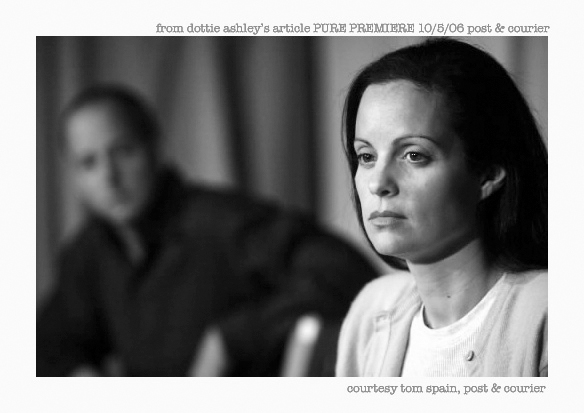 'My grandfather lived in Mullins in a cement-block house and in his yard raised chinchillas, rabbits and chickens in little block henhouses," explains Rodney Lee Rogers, whose play, "Killing Chickens," will have its world premiere Friday at Pure Theatre.
Although Rogers has lived and had his plays performed in Seattle and New York, he can't get the South or his grandfather and his chickens in the Pee Dee out of his head.
An actor, director and playwright, Rogers and his wife, actress Sharon Graci, are co-founders of Pure Theatre, where his plays, "Tell" and "What Comes Around," also were produced. His play, "Sheep With Wolves Teeth," was performed at the Argo Theatre in New York, and his new works, "Cowboys" and "Premeditated," were staged in Seattle.
When Pure Theatre was founded four years ago, Rogers and Graci made it plain they were going to take risks producing somewhat shocking, controversial works such as those of playwrights Neil LaBute and Rebecca Gilman.
And this week, the husband-and-wife team has announced that new plays will become more the focus of the theater.
"In future seasons, we plan to define our commitment to new plays and will produce either world premieres or works that have had five or fewer performances," says Graci. "In four short years, Pure has produced three world premieres, nine Southern premieres and three South Carolina premieres. This is what really excites us and keeps us going with enthusiasm and passion as we are looking for vibrant, intelligent theater."
In "Killing Chickens" the action focuses on Bob Wiggins, a chicken processor who holds members of his family together, whether alive or dead, as he regularly communicates with his dead wife. With his younger son, Phil, battling a hypochondria-induced illness on his sofa, and his other son, Cliff, entangled in a disintegrating marriage, plus all the chickens, Bob has his work cut out for him.
If only he could remember to take his medication.
"'Killing Chickens" marks many firsts for me as a playwright," says Rogers. "Over the years, this work has grown from a monologue to a film script to a play. Also, it marks the completion of a theme that has haunted me throughout my young adulthood, and it marks an ending and a beginning for me because I feel for the first time that I've finally gotten it right."
The core of Rogers' script comes from his belief that, "Throughout our lives, death comes to us in many forms; how we embrace both literal and symbolic deaths informs how we choose to live.
"For sure, this tale has plenty of humor, but it is also an honest look at the fact that because of a death, or other traumatic milestones, you have to evolve from one person into another person," explains Rogers. "The plot deals with people trying to shed the skins of their former selves in order to grow; letting go of the past and moving into that other person can be painful if you insist on holding on and trying to make things stay the same."
Brian Golden, artistic director of Chicago's Seven Stages and a two-time winner of the A.E. Hotchner Playwriting Contest, has come to Charleston to direct the play.
Of Rogers' work, Golden says, "The characters in this play speak, think and act with a kind of savage poetry; they're crusty and they're damaged. This play is smart, but not an intellectually driven piece; rather, it comes from the gut and examines how the same personal failure can kill you twice if you let it."
He adds, "At one point, the script utilizes some footage from the film 'High Noon,' and that's what this is about: a big-time, gun-slinging showdown of the heart."
Taking the role of Bob is Randy Neale, with Rogers as Cliff, Ryan Ahlert as Phil and Sharon Graci as Cliff's wife, Heather. Sullivan Graci-Hamilton will portray Cliff and Heather's young daughter, Ashley.
---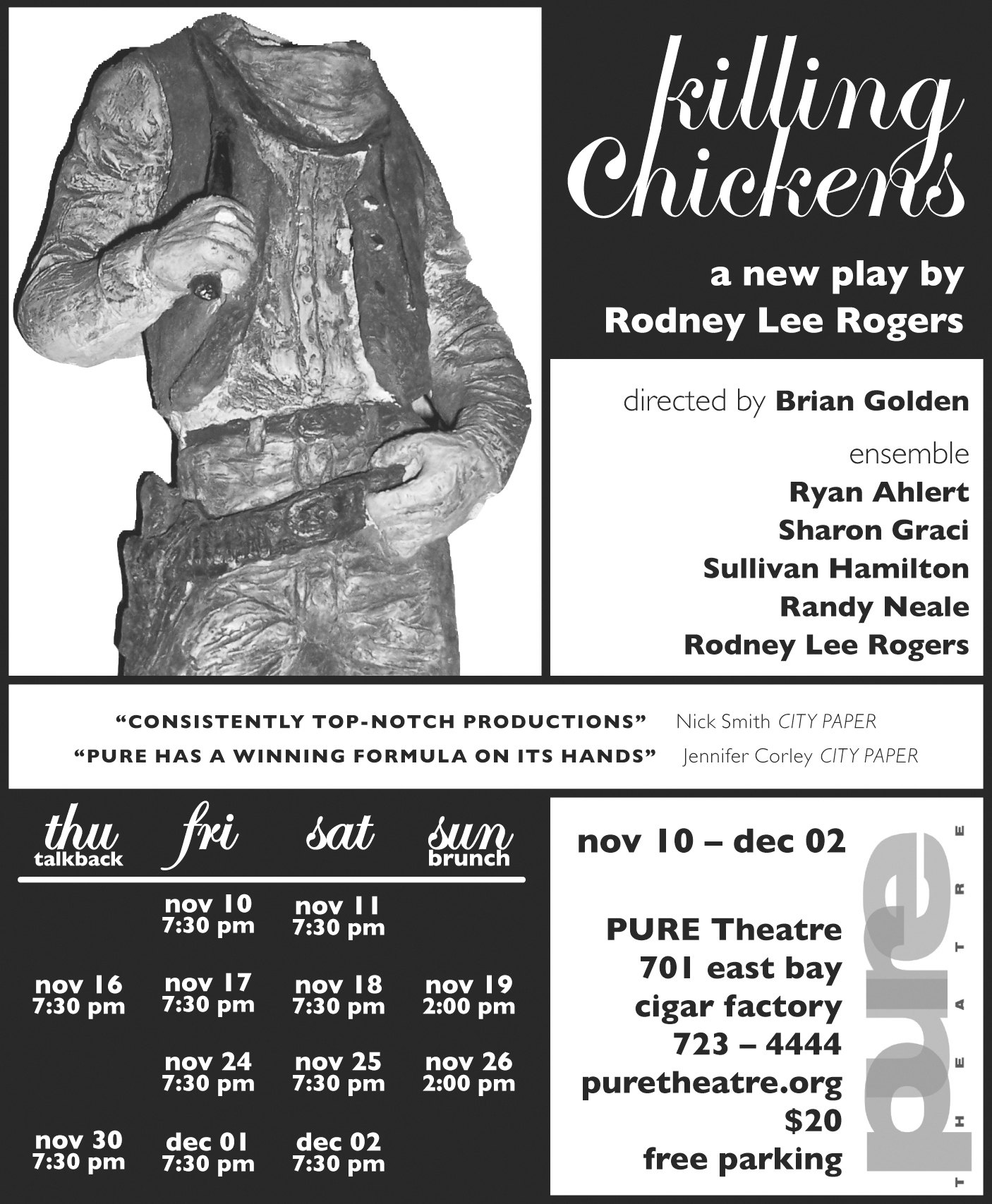 Chickens Firmly in Dramatic Tradition
by Jeff Johnson
Post and Courier

Pure Theatre's world premier of Rodney Lee Rogers' "Killing Chickens" opened to a large and enthusiastic audience.
Rogers' new play deals in a seemingly realistic way with the struggles of an ageing patriarch to understand himself and his family.
Randy Neale's Poppa Bob, a chicken-house processor, is the center of the dramatic action. He is unsure if his wife upstairs is a ghost or why his son Phil is on the sofa taking pills as he watches "High Noon." Neale is an affable actor, who manages to suggest the complexity of his character while remaining extremely likable.
As a symbol of American machismo, Ryan Ahlert's Phil conjures up a world hovering between James Dean and Montgomery Clift which is much too good to be true. While Phil at times seems to slow the play with heavy-handed symbolism, Ahlert's performance is deft and lively, making a graceful contrast to the loud angry rage of his brother, Cliff.
Poppa Bob doesn't really like Cliff, and for a good deal of the action neither does the audience. It is nice of the playwright to act the most repulsive character in the show, and to the hilt.
Rogers' Cliff is a vicious bully, towering over his wife and father, simmering with rage.
But as the tangled skein of the family's past unravels, it becomes obvious that for his psychological salvation, Poppa Bob must reconcile himself to Cliff and save Cliff's family.
As Heather, Cliff's wife, Sharon Graci has nice hand-wringing moments. Sullivan Graci-Hamilton has a delightful scene as their daughter, Ashley, but is confusing as a symbol stalking between the audience and the stage, toting a cap gun.
"Killing Chickens" is firmly in the dramatic tradition created by Eugene O'Neill and refined by Arthur Miller, so go see it at the Cigar Factory on East Bay Street, but leave the children at home because the language is R rated, and it is an adult play.