Straight White Men
by Young Jean Lee
DIRECTED BY RODNEY LEE ROGERS
APRIL 27–MAY 19, 2018
PAY-WHAT-YOU-WILL PREVIEW APRIL 26 AT 7:30 PM
PAY-WHAT-YOU-WILL WEDNESDAY
When Ed and his three adult sons come together to celebrate Christmas, they enjoy cheerful trash-talking, pranks, and takeout Chinese. Then they confront a problem that even being a happy family can't solve: When identity matters, and privilege is problematic, what is the value of being a straight white man?
"Emotionally satisfying…and unflinching in its critique of white-driven social justice."
—New York Times
"Fascinating…goes far beyond cheap satire, ultimately becoming a compassionate and stimulating exploration of one man's existential crisis."
—TimeOut NY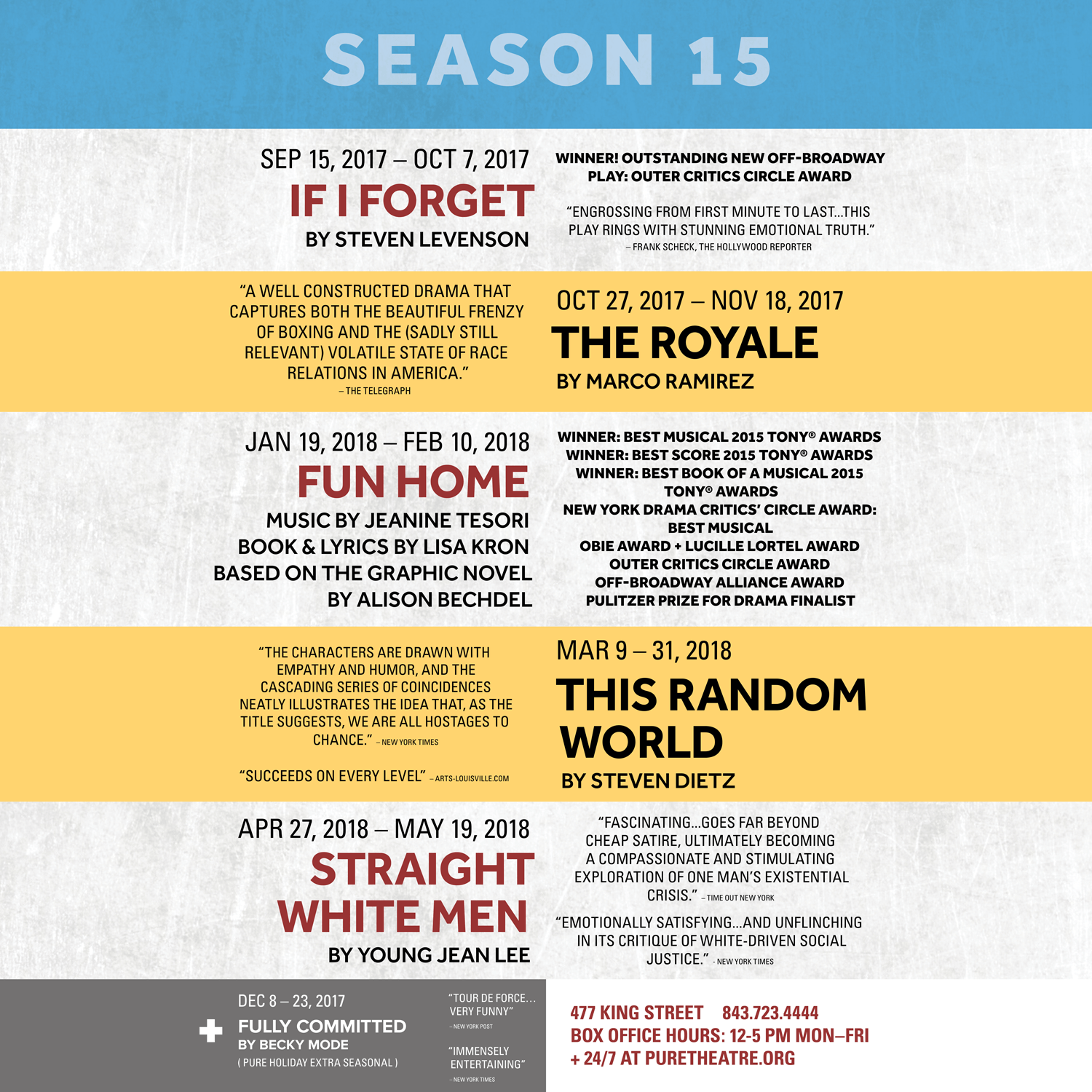 There is nothing that entertains, inspires, provokes, or enlightens like live theater. Each of the plays in our 15th season creatively examines the macro issues of our life and times through an intimate and immediate microlens. Be they fathers, sisters, colleagues, friends or loosely connected strangers bound by circumstances beyond their control, the characters in Season 15 refract global themes and broad ideas that are instantly recognizable and widely accessible. In these five plays, we can readily see ourselves within the celebrations, victories, foibles, and failings, of the characters who inhabit landscapes as disparate as a racially integrated boxing ring in 1912, an aging brownstone in NJ,  and an ancient temple still mystically welcoming believers in modern day Japan. Season 15 promises to be all that you've come to expect from PURE: exceptional theater with something to say. Let's keep the conversation going.
SHARON GRACI
Co-Founder & Artistic Director