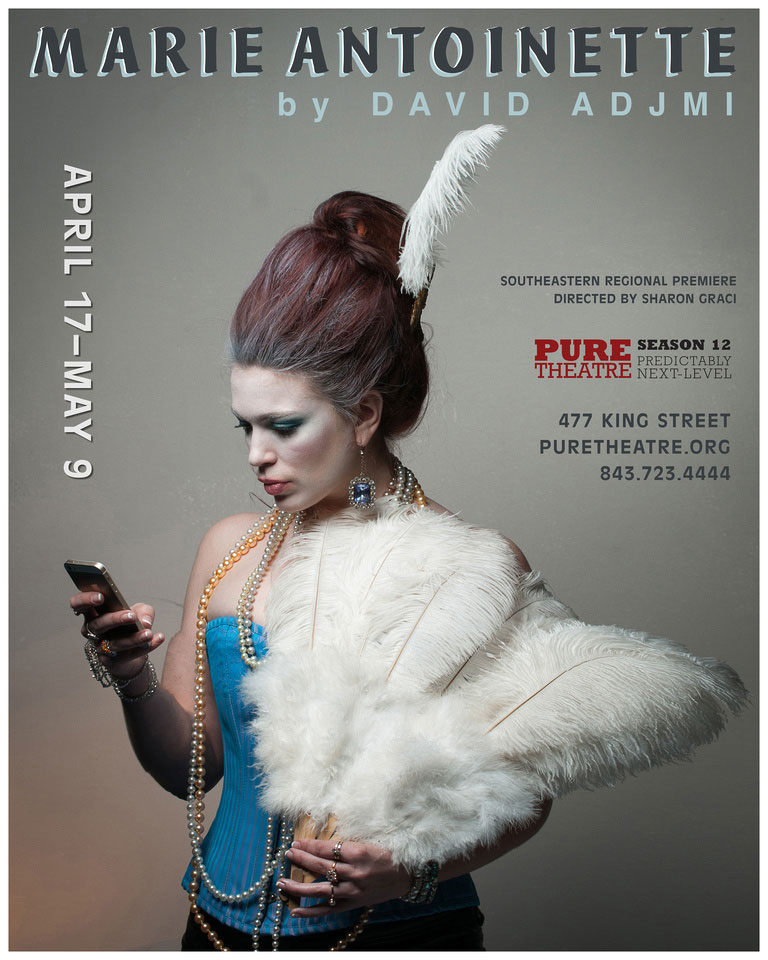 How's a queen to keep her head in the middle of a revolution? Marie Antoinette delights and inspires her French subjects with her three-foot tall wigs and extravagant haute couture. But times change and even the most fashionable queens go out of style. In the humorous and haunting Marie Antoinette, idle gossip turns more insidious as the country revolts, demanding liberté, égalité, fraternité!
MARIE ANTOINETTE
by David Adjmi
April 17, 2015 – May 9, 2015
ENSEMBLE
Haydn Haring as Marie
Michael Smallwood (PURE Core Ensemble) as Louis
Cristy Landis (PURE Core Ensemble) as Yolande
Camille Lowman as Therese
Jimmy Flannery as Joseph
Addison Dent as Axel
CREATIVE TEAM
Costume Design: Janine McCabe & Taylor-Ann Spencer
Scenic Design: Samantha Dahabi
Lighting Design: Lauren Duffie
Sound Design & Projection Design: Miles Boinest
Technical Directors: Richard Heffner & Carly Ridgeway
Dramaturge: Susan Kattwinkel
Assistant Dramaturge: Allyson Musmeci
Lowcountry Giving Day 2014 was a huge success for PURE because of all of your support! Help us reach our goal this year of 200 gifts on May 5th!
A gift to PURE on Giving Day helps support PURE's commitment to:
Producing thought-provoking, contemporary theatre
Hiring close to 100 professional theatre artists (actors, directors, designers, stage managers, technicians) each season
Developing new work through PURE Lab
Producing the work of a dedicated playwright in residence
Touring our work to communities and schools in South Carolina
Offering Pay What You Will nights for every PURE production to introduce our work to a wider audience
Remember to Make Your Donation on MAY 5TH!